Surgical Services
Experienced surgeons and advanced technology
If you or a loved one needs surgery, you can count on exceptional care from Dallas Regional Medical Center. You'll find surgeons who are leaders in their specialties, and a team of skilled and caring professionals who have access to the latest surgical technology.
Our surgical unit includes four operating rooms, one cystoscopy suite, and two endoscopy labs. We also have two orthopedic suites located on the second floor, which are part of our comprehensive orthopedic care unit. State-of-the-art equipment allows our surgeons and staff the environment to care for general and specialized surgical care for patients with a wide range of clinical needs.
For further information, contact us at 214-320-7000
Capabilities include cardiac surgery, gastrointestinal procedures, surgical treatments for obesity (LAP-BAND and gastric bypass), a wide range of operations for bone and musculoskeletal disorders, and specialties such as vascular, thoracic, gynecologic, urologic, ear, nose and throat.
Minimally invasive options
Dallas Regional Medical Center's surgeons are recognized for their expertise in minimally invasive procedures. By using miniature cameras with microscopes, tiny fiber-optic flashlights and high-definition monitors, surgeons can perform surgery through small incisions that take only a few stitches to close. Smaller incisions result in less blood loss, less pain and a quicker recovery. We offer:
Arthroscopic surgery
Endovascular techniques (catheter-guided procedures)
Laparoscopic surgery
Laser surgery
Day surgery
Many surgeries once requiring overnight hospital stays can be performed as day surgery in our Day Surgery unit. Patients return home that day to recover without a hospital admission. Our day surgery unit performs surgeries in a variety of specialties including eye, gynecologic, orthopedic, ear, nose and throat, among others. Our goal is to provide our patients and their loved ones with individual attention and convenience in a caring environment.
Focus on patient comfort and safety
Our skilled teams work in state-of-the-art surgical suites, and deliver personalized care using sophisticated medical technology. We work closely with patients, families and their primary care doctors to ensure that we answer every question and address every concern. At Dallas Regional Medical Center, our focus is on patient safety, care and comfort.
Surgical Services Offered
Bariatric & Weight Loss Institute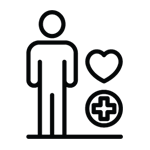 Emergency Medicine Center