More About Our Heart Care Center
Cardiovascular diagnosis and imaging
Dallas Regional Medical Center provides technologically advanced heart care, offering state-of-the-art diagnostic equipment and expertise. Our experienced clinical cardiologists use a wide range of sophisticated cardiac procedures to diagnose heart disease.
For further information, contact us at 214-320-7000
Cardiac Procedures
Electrophysiology studies, electrocardiogram (ECG or EKG) and transesophogeal echocardiogram (TEE) measure the heart's electrical activity and identify muscle damage that can cause heart disease. Portable devices such as a Holter monitor or event recorder measure a patient's heart activity throughout the day, over an extended period of time.
Nuclear medicine scans

 

such as positron emission tomography (PET), PET/CT scans, or thallium or myocardial perfusion scans utilize a small dose of radioactive material to reveal the structure and blood flow within the heart.
Non-invasive imaging technologies

 

including magnetic resonance angiography (MRA), computed tomography angiography (CTA), X-ray and echocardiograms provide images of the heart muscle, valves, veins and arteries.
Cardiac catheterization,

 

or coronary angiogram, is an interventional cardiology procedure that provides real-time X-ray images (fluoroscopy) to show the heart's pumping ability, the health of the valves and arteries, as well as measure blood pressure. This technique is also used to collect biopsies and blood samples.
Heart Failure Care
Dallas Regional Medical Center's heart care specialists utilize advanced diagnostic technology to determine the cause and extent of heart failure. Doctors and nurses who specialize in heart failure provide a comprehensive management program that offers the latest treatment options, including:
Medical management

 

– Medications are used to lower blood pressure, eliminate excess water, prevent clotting, slow heart rate or alter hormones that affect the heart. Dallas Regional Medical Center's cardiologists can develop a program that combines medication and lifestyle changes to effectively manage heart failure.
Risk-factor management

 

– Lifestyle changes such as losing weight and eating more healthfully, controlling blood pressure, abstaining from alcohol and smoking, and getting enough rest can help improve heart health and prevent further damage.
Minimally invasive cardiac catheterization techniques

 

– Outpatient procedures such as angioplasty and stent placement are used to open blocked arteries.
Interventional services

 

– Experienced cardiologists utilize advanced technology to deliver state-of-the-art heart failure treatment, including implantable devices such as pacemakers and defibrillators.
Heart Rhythm Disorders
Dallas Regional Medical Center's arrhythmia specialists utilize advanced technology to measure the heart's electrical activity and identify damage to the heart. Doctors use tests such as an electrocardiogram (ECG or EKG), electrophysiology studies or a Holter monitor, which records heart activity over a period of time, to diagnose arrhythmias.
Lifestyle modification and medical management – Stress, caffeine, alcohol or other substances can contribute to arrhythmias. Dallas Regional Medical Center provides education and resources to help you adopt healthier lifestyle habits to eliminate arrhythmias. When lifestyle changes are insufficient, arrhythmia specialists can develop a treatment plan using medications.
Cardioversion – Fast arrhythmias are treated by delivering an electrical shock to the heart, utilizing an ECG monitor and a defibrillator.
Catheter ablation – A catheter fitted with a tiny electrode is used to eliminate abnormal heart cells that are causing the arrhythmia.
Implantable devices – Placed just under the skin, small devices are used to send electrical signals to the heart to regulate heartbeat. A pacemaker is used to regulate a slow heartbeat, and a cardioverter-defibrillator (ICD) is used to regulate a fast heartbeat (defibrillation).
Interventional Cardiology
In some cases, heart disease can be treated using minimally invasive interventional cardiology techniques that use a catheter (thin, flexible tube) inserted into the arteries. The catheter is guided to the heart to open blocked arteries and improve blood flow. These advanced techniques are performed on an outpatient basis and offer a non-surgical alternative to treat many heart conditions.
Dallas Regional Medical Center's board-certified interventional cardiologists use a variety of advanced catheter-assisted techniques to treat heart disease, including:
Diagnostic cardiac catheterization

 

– Examines the heart with real-time images (fluoroscopy), and measures blood pressure, blood flow, oxygen levels, and is used to collect biopsies and blood samples.
Angioplasty

 

– A tiny balloon on the end of a catheter is inflated to push plaque against the wall of the artery to improve blood flow. A laser can also be used to break up the plaque.
Stent placement

 

– A stent, which is a small mesh tube, is placed in an artery to hold it open and improve blood flow.
Ablation

 

– A catheter fitted with a tiny electrode eliminates abnormal heart cells that cause arrhythmias.
Coronary atherectomy

 

– A catheter fitted with a tiny rotating shaver removes hardened plaque to open a blocked artery.
Vascular Medicine
Vascular medicine focuses on conditions and diseases that affect arteries and veins, and impair blood flow. Dallas Regional Medical Center's vascular medicine team has the expertise to provide a full spectrum of care, including:
Advanced diagnostic technology

 

– Heart and vascular specialists utilize advanced imaging technology such as computed tomography angiography (CTA) and magnetic resonance angiography (MRA), or a minimally invasive coronary angiogram to evaluate and diagnose heart and vascular disease.
Risk-factor management

 

– Diabetes, high blood pressure, obesity and unhealthful habits such as a sedentary lifestyle, smoking and improper diet can contribute to vascular disease. Dallas Regional Medical Center offers educational and preventive-screening services to help promote healthful practices that contribute to heart and vascular health. A multidisciplinary team can provide a treatment program to manage risk factors to minimize the risk of developing or aggravating vascular disease.
Surgical interventions

 

– Minimally invasive catheter-assisted techniques such as angioplasty, atherectomy and stent placement can be used to remove plaque and reopen blocked arteries. Vascular specialists use minimally invasive procedures whenever possible.
Bariatric & Weight Loss Institute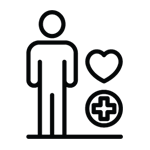 Emergency Medicine Center