Cancer Care
Comprehensive treatment for breast and gynecological cancers
If you or someone you love has been diagnosed with cancer, Dallas Regional Medical Center can provide you with comprehensive care from a multidisciplinary team of caring professionals. Our care combines advanced technology, medical expertise and a full range of support services to address body and mind. Dallas Regional Medical Center's cancer care professionals are focused on exceptional, patient-centered care that includes support and specialty services designed just for women.
For further information, contact us at 214-320-7776
Whether it's breast cancer, cervical cancer, or another cancer that affects women, Dallas Regional Medical Center offers a range of cancer treatment options including:
Breast lump removal
Chemotherapy
Mastectomy and breast reconstruction
Radiation therapy, including MammoSite® brachytherapy for breast cancer
Minimally invasive and robotic surgery
Cancer support services just for women
An important part of Dallas Regional Medical Center's comprehensive care is to address the emotional and spiritual needs of our patients, so we offer a full range of support services, including health and nutrition counseling, support groups and more.
Further evaluate abnormalities that were found during a mammogram or clinical exam.
Provide additional detail for treatment planning.
Breast ultrasound (sonography)
A breast ultrasound is often used to further evaluate an abnormality found during a mammogram. Ultrasound allows doctors to see the area closest to the chest wall, which can be difficult to see using mammography. This technology also helps doctors determine whether a breast lump is filled with fluid (a cyst) or is a solid mass.
Stereotactic biopsies
When a lump or abnormal area is detected during screening, a biopsy can determine whether cells are cancerous. Advanced imaging technology — such as MRI, mammography or ultrasound— can be combined with minimally invasive techniques to obtain tissue samples. Dallas Regional Medical Center offers digital stereotactic biopsies, and women can choose to be seated or lying down during the procedure for maximum comfort.
To schedule a mammogram or other screening exam, please call (214) 320-7776.
Bariatric & Weight Loss Institute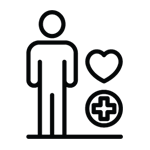 Emergency Medicine Center