Telehealth
Primary care telehealth
We are here for you, now more than ever. During these uncertain and constantly changing times of the COVID-19 pandemic, we have incorporated new measures to ensure patients have access to trusted medical care. Providers at our outpatient Dallas Medical Physician Group clinics are ready to meet your health care needs.
For further information, contact us at 214-320-7000
What is primary care telehealth?
Our Telehealth program uses convenient telecommunications technologies to deliver virtual medical, health, and advisory services. Our providers are able to use the system for traditional clinical diagnosis and monitoring of patients. Simply put, our Telehealth is like having a visit to the doctor without having to leave your home. You will be able to interact and communicate with your trusted provider, just like you were in the same room.
Please click the button below for more information or to make an appointment.
Bariatric & Weight Loss Institute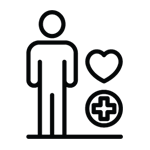 Emergency Medicine Center