Robotic Surgery
State-of-the-art technology benefits patients
Dallas Regional Medical Center is proud to offer patients the latest technology and advanced treatment options. Robotic surgery provides a safe, minimally invasive approach to surgery that allows surgeons to perform complex surgical procedures through small incisions. For patients, robotic surgery offers:
Less pain and scarring
Lower risk of infection
Shorter hospital stays
Quicker recovery
For further information, contact us at 855-637-6268
How robotic surgery works
Robotic surgery is similar to laparoscopic techniques, in which small incisions are made near the surgical treatment area. From a console in the operating room, the surgeon remotely manipulates surgical instruments, which are attached to robotic arms, to perform surgery through the incisions. A powerful camera provides magnified, 3-D images to provide clear details of the surgical area. Robotic technology gives surgeons enhanced dexterity, precision and range of motion.
da Vinci® Si™ Surgical System
Dallas Regional Medical Center's surgeons are specially trained on the state-of-the-art da Vinci® Si™ Surgical System. Our surgeons can perform a variety of robotic-assisted procedures, including:
Bariatric surgery
Cardiothoracic surgery, including coronary artery bypass
Colorectal surgery
General surgery
Gynecological surgery, including hysterectomy and fibroid surgery (myomectomy)
Transoral robotic surgery (TORS), for mouth and throat cancers
Thyroid surgery
Urologic surgery, including prostatectomy
da Vinci® Frequently Asked Questions
RIO® Robotic Arm Interactive Orthopedic System
MAKOplasty® partial knee replacement can offer a minimally invasive option to treat knee pain associated with early to mid-stage osteoarthritis. Dallas Regional Medical Center's orthopedic surgeons use the RIO® Robotic Arm Interactive Orthopedic System to resurface the diseased portion of the knee, sparing the patient's healthy bone and surrounding tissue. This technique offers patients a more natural knee motion.
Surgeons also use MAKOplasty® to provide a minimally invasive option for total hip replacement. This advanced technique allows surgeons to prepare the hip socket for a more exact implant alignment, and reduces complications such as excessive wear on the joint, unequal leg length or dislocation.
MAKOplasty® Frequently Asked Questions
For more information on robotic surgery, call (855) MDR-OBOT (855-637-6268).
Bariatric & Weight Loss Institute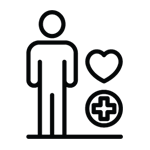 Emergency Medicine Center