Dallas Regional Primary Stroke Center
Dallas Regional Medical Center is your Primary Stroke Center. This means we are certified by The Joint Commission to provide a higher level of stroke care which includes around-the-clock access to a specially trained stroke team and advanced imaging technology integrated throughout our ER. Our stroke team is able to diagnose and treat strokes of all types for patients of all ages faster and more comprehensively than non-certified hospitals.
Our stroke team
Dallas Regional Medical Center's experienced stroke team has the expertise and technology to delivery life-saving care.
More About the Stroke Center
For further information, contact us at 214-320-7000
Comprehensive stroke care services, from education and prevention to emergency care and rehabilitation.
Why go to a primary stroke center?
A Primary Stroke Center means you are in the best possible place for stroke care.
Your Primary Stroke Center at Dallas Regional Medical Center has met rigorous standards as established by The Joint Commission, in conjunction with the American Heart Association and the American Stroke Association.
Primary Stroke Center certification designates hospitals with advanced technology, infrastructure, staff and training to receive and treat patients of all ages with all types of strokes.
Prepared to treat all types of strokes quicker than non-certified hospitals
24/7 stroke team access
Advanced imaging technology and protocols
Seamless integration with the ER
Why every second counts
Stroke is the third leading cause of death in the U.S. and the leading cause of serious, long-term disability. Each year, more than 700,000 Americans suffer a stroke. Someone has a stroke every 40 seconds.
When you are having a stroke, a blockage or hemorrhage cuts off oxygen to part of the brain
Every second that goes by costs thousands of brain cells, which may or may not be recovered
Survival and degree of recovery depend on how quickly a precise diagnosis can be made and treatment can begin
The gold seal means you are in the right place
The Joint Commission's Gold Seal of Approval means you are in the best possible place for stroke care. Learn more.
Think F.A.S.T.
F.A.S.T. is the easy way to remember the signs of a stroke. Know the signs and call 911 immediately.
Stroke awareness videos
Stroke kills more than 133,000 Americans each year, and is the leading cause of serious, long-term disability. A large percentage of strokes that happen are treatable, but only if you get care right away.
Bariatric & Weight Loss Institute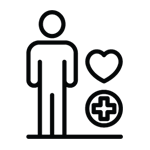 Emergency Medicine Center