Primary Care
Your primary care doctor is at the center of your care
Having a primary care doctor is a key component of good health. Your primary care doctor helps coordinate all your care and serves as your personal health advocate, so it's important to establish a long-term relationship so he or she is familiar with your history.
For further information, contact us at 214-660-2500

Primary care doctors have the expertise to diagnose and treat a wide range of conditions, and work collaboratively with specialists and other health care professionals to deliver comprehensive care. He or she can also help you stay healthy by offering preventive health information, as well as answer your questions about health concerns or issues.
Dallas Regional Medical Center's primary care doctors have access to a wealth of resources to deliver quality care, from state-of-the-art diagnostic and treatment options to a wide range of specialists and programs to meet your health needs.
The right doctor for you
Choosing the right primary care doctor is an important decision — it should be someone who you feel comfortable with and can trust. The types of primary care doctors include:
Family practice – Provide care for the whole family, from pediatrics to senior health care.
Internal medicine – Specialize in providing care to teenagers and adults.
Gynecology – Provide specialized gynecological care for women of all ages.
Bariatric & Weight Loss Institute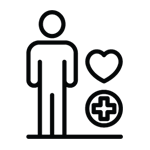 Emergency Medicine Center