Pharmacy
Pharmacists are part of the health care team
Dallas Regional Medical Center's clinical pharmacists are important members of the health care team to help ensure the safest and most effective use of medications. Our pharmacists and technicians are committed to safety and quality, and work closely with doctors and other caregivers to meet each patient's specific health care needs. Pharmacists are available 24 hours a day, seven days a week to provide high-quality pharmacy services to all areas of the hospital.
For further information, contact us at 214-320-7000
Dallas Regional Medical Center has a team of clinical pharmacists with unique expertise in medication dosing, side effects, and efficacy. Our clinical pharmacists:
Provide a consistent process of patient care that ensures the appropriateness, effectiveness, and safety of the patient's medication use.
Consult with the patient's physicians and other health care providers to develop and implement a medication plan that can meet the overall goals of patient care established by the health care team.
Apply specialized knowledge of the scientific and clinical use of medications, including medication action, dosing, adverse effects, and drug interactions, in performing their patient care activities in collaboration with other members of the health care team.
Call on their clinical experience to solve health problems through the rational use of medications.
Rely on their professional relationships with patients to tailor their advice to best meet individual patient needs and desires.
Provide pharmacokinetic consultations, anti-coagulation medication monitoring, renal dosing of medications, and patient counseling.
Bariatric & Weight Loss Institute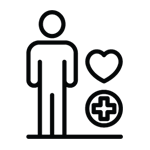 Emergency Medicine Center