Joint Replacement and Reconstruction
Joint replacement for relief of chronic pain
Advances in medical technology have made joint replacement therapy a highly effective option to treat chronic joint pain from arthritis and other degenerative joint diseases or injury. Dallas Regional Medical Center's multidisciplinary orthopedic care team includes orthopedic doctors, surgeons, pain management specialists and physical therapists who provide comprehensive care.
For further information, contact us at 214-320-7000
Services Offered
Total joint replacement for knees, hips, elbows and shoulders
Hip resurfacing
Minimally invasive options
Comprehensive care through recovery
Part of our comprehensive care includes preparing our patients properly before surgery, as well as helping them recover their mobility. You'll know what to expect before, during and after surgery. Our orthopedic care professionals are focused on providing exceptional care from diagnosis through recovery.
Bariatric & Weight Loss Institute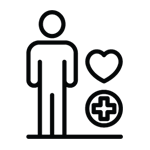 Emergency Medicine Center