Labor and Delivery
At Dallas Regional Medical Center, we pride ourselves on high-quality and compassionate care. Whether you are a new mom or are having another baby, we want to make you feel comfortable and educated as you prepare for the birth of your child. Our women's center, known as The Women's Center of Mesquite, opened in Spring 2016. The center houses the newest medical equipment and is decorated in an updated, modern style.
The Women's Center of Mesquite contains:
10 labor and delivery rooms
2 operating suites
A level one nursery
11 postpartum rooms
For further information, contact us at 214-320-7725
The women's center of mesquite nursery
Your precious baby can spend the first few hours of his or her life with you in your recovery room, or in our newborn nursery if you need a short break. We are well equipped to provide the best care for your bundle of joy. The nurses and staff in this unit are thoroughly trained and qualified to handle children from the time of birth until it's time for baby to go home for the first time.
Our postpartum rooms
After you have given birth, our postpartum rooms provide a quiet, comfortable setting for you to relax. We want you to experience a calming atmosphere as you get acquainted with your new child. Our goal is to welcome you into a place that makes you feel right at home as you recover from delivery and introduce friends and family to your little one.
Services at the women's center of mesquite
We want to help pregnant women and women who have just delivered a baby in any way we can. We offer a childbirth education class for pregnant women who choose to have their baby at Dallas Regional Medical Center. Our Childbirth Educator specializes in preparing you for what to expect during your stay, as well as baby care basics.
In this class, we will explain: what happens from registration to discharge, the labor process, types of delivery, common tools and machines in the delivery room, baby care, breast feeding, and what to expect at home. We will also provide a tour of the Labor and Delivery and Postpartum Units.
Classes will begin at 9:30 a.m. and last approximately one hour. Classes for 2023 are offered on the following dates:
January 14th
February 25th
April 1st
May 13th
June 24th
Please call Labor and Delivery at
214-320-7725
to sign up for your preferred class. We recommend you be in your second or third trimester, but you are welcome to join any date.
Let our compassionate team help you through this significant milestone in your life. We want to bring your little one into the world with the utmost care. If you want a gentle and caring team of physicians and nurses to assist you through your labor, delivery of your child, and make you comfortable during the hours postpartum, contact Dallas Regional Medical Center today!
Bariatric & Weight Loss Institute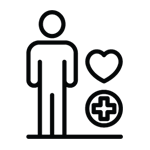 Emergency Medicine Center