Infectious Diseases
Expert diagnosis and care for infectious disease
Dallas Regional Medical Center's infectious disease specialists diagnose and care for a wide range of conditions caused by bacteria, viruses and other organisms. A multidisciplinary team of doctors, nurses, pharmacists and other clinicians provide comprehensive treatment through antibiotics and other medications, as well as preventive vaccinations and immunizations.
For further information, contact us at 214-320-7000
We provide a range of services, including:
Expert diagnostic services for bacterial and viral pathogens.
Comprehensive care for hospitalized patients with infectious diseases.
Pre- and post-travel health consultations and immunizations.
Care and oversight of transplant patients.
Our infectious disease professionals are well equipped to manage care for a range of infectious conditions, including:
Cytomegalovirus disease
Fungal infections
Human immunodeficiency virus (HIV)
Infections of the skin and soft tissue
Influenza
Lyme disease
Osteomyelitis
Sexually transmitted diseases
Transplant-related infections
Travel-related infections
Tuberculosis
Viral hepatitis
Bariatric & Weight Loss Institute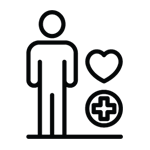 Emergency Medicine Center