Imaging and Radiology
The latest diagnostic and imaging technology
Dallas Regional Medical Center offers a full range of technologically advanced imaging services to provide patients with high-quality diagnostic and therapeutic services. Our imaging and radiology services teams provide exceptional care and work with doctors, nurses and other clinicians to deliver the comprehensive care that Dallas Regional Medical Center is known for. Our digital imaging technology allows doctors to access test results immediately, so treatment can begin more quickly.
For further information, contact us at 214-320-7000
Imaging expertise, exceptional care
From angiography and X-rays to complex endoscopic procedures and digital mammography, we offer a full spectrum of advanced imaging services delivered by caring, knowledgeable technologists. We offer leading-edge technology to provide the latest in diagnostic and therapeutic techniques, including:
Our highly trained imaging technologists are certified with advanced registries and are focused on patient safety and comfort.
Bariatric & Weight Loss Institute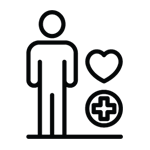 Emergency Medicine Center