Geriatric Emergency Department (GEDA)
At Dallas Regional Medical Center, seniors have earned a little extra consideration, and we are honored to care for the older adults of Dallas County.
We were the first Accredited Geriatric Emergency Room in Dallas County.
For further information, contact us at 214-320-7000
Dallas Regional Medical Center earned the Geriatric Emergency Department Accreditation (GEDA) recognizing emergency departments that go above and beyond to provide excellent care for older adults. The GEDA program is the culmination of years of progress in the emergency care of older adults. In 2014, four geriatric-focused organizations developed and released geriatric ED guidelines. These guidelines recommended measures ranging from adding geriatric-friendly equipment to specialized staff to more routine screening for delirium, dementia, and fall risk, among other vulnerabilities.
The voluntary GEDA program provides specific criteria and goals for emergency clinicians and administrators to target. A Geriatric Accredited emergency department must incorporate selected best practices, as well as provide inter-disciplinary geriatric education, and have geriatric-appropriate equipment and supplies available.
At the Dallas Regional Medical Center emergency department, we'll see you quickly, and we take time to evaluate your condition and develop the best plan of care for you. With our geriatric-trained Emergency Nurses, our collaborative ER team is trained to identify older adults that need extra support during and after their hospitalization.
In addition, we work closely with you to manage your long-term health and wellness. Our clinicians develop a discharge plan with you and your family to help you manage your future healthcare needs.
Our accredited senior Emergency Department features an atmosphere to enhance safety and comfort. During your stay, you can expect the following:
Educated Geriatric Emergency Nurses
Easy-to-read signs and clocks
Pressure reducing mattresses
Tranquil Environment
Handrails in the restrooms
Extra seating for family
Skid-proof footwear
Large print signage and documents
Reading glasses
Warm blankets
Walkers
For more information, please contact McGraw Smith at msmith15@primehealthcare.com
Bariatric & Weight Loss Institute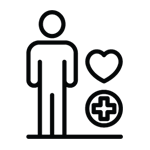 Emergency Medicine Center