Critical Care Medicine (ICU)
Intensive, round-the-clock monitoring and care
Dallas Regional Medical Center's highly trained critical care doctors, nurses and other health care professionals provide 24-hour monitoring and acute care for critically ill patients in our Intensive Care Unit (ICU). Patients have access to specialists in a full range of disciplines who are available to provide expert care at a moment's notice. Our ICU team utilizes advanced equipment and technology to provide safe, high-quality care.
For further information, contact us at 214-320-7000
We understand that having a family member or loved one in the ICU can be difficult, so our critical care team members are dedicated to keeping you well informed and answering your questions.
Dallas Regional Medical Center has two critical care units including:
Medical intensive care unit (MICU): This newly renovated eight-bed unit provides acute care for critically ill adult and geriatric patients. The multidisciplinary staff is highly collaborative and supportive, working together to achieve the best patient outcome possible.
Surgical intensive care unit (SICU): provides a full range of intensive care services, using advanced monitoring techniques and equipment to support post-surgical recovery. In the 14-bed unit, patients benefit from the coordination of multi-specialty teams highly trained in caring for critical patients.
Bariatric & Weight Loss Institute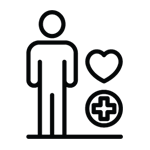 Emergency Medicine Center