Cardiac Calcium Score
Did you know for nearly half of all Americans, the first symptom of heart disease is a heart attack?
Early identification of heart disease can help prevent a heart attack, and a cardiac calcium screening can help identify the early stages of heart disease. This noninvasive test only takes a few minutes…and it could save your life.
For further information, contact us at 214-320-7776
What does a cardiac calcium score measure?
Plaque is a build-up of substances which can narrow the arteries or close off blood flow to the heart. When plaque begins to harden, it becomes calcified. A cardiac calcium score uses a CT scanner to take a picture of your heart and main arteries to see if any calcium deposits have formed.
Absolutely not. There are no needles involved in the procedure. And at only $59, not even your wallet will feel a sting.
The whole procedure from start to finish takes about 15-20 minutes, but most of that time is for registering and completing paperwork. You're only lying down on the CT scanner for less than five minutes, and the actual "procedure" takes place in less than one second…literally a single heartbeat.
How can I schedule my procedure?
Appointments are required and may be made by calling 214-320-7776.
If you are between the following ages and have at least one risk factor from the list below, you do not need a physician referral:
Males must be between forty (40) and sixty-five (65) years of age.
Females must be between forty-five (45) and seventy (70) years of age.
Risk factors:
Diabetes
Be a current smoker
Obesity
Have a family history of heart disease
Have a blood pressure greater than 140/90
Have an LDL cholesterol level greater than 160
If you do not meet the minimum requirements, you'll need to get a referral from a physician. Please note this $59 special is a cash price, and no insurance claims will be filed. In order to ensure you do not receive any additional bills, please purchase a voucher for your cardiac calcium score through MD Save.
Bariatric & Weight Loss Institute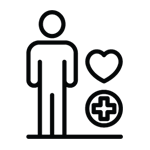 Emergency Medicine Center