State-of-the-Art Heart Care, Close to Home
Heart disease is the leading cause of death and a major cause of disability in the United States. Our heart care specialists offer state-of-the-art heart care, from diagnosis and emergency intervention to the latest treatments, preventive education and rehabilitation.
Accredited chest pain center
Dallas Regional Medical Center has received Chest Pain Center Accreditation from the American College of Cardiology Accreditation Services. Hospitals that have received ACC Accreditation have achieved a higher level of expertise in dealing with patients who arrive with symptoms of a heart attack. They emphasize the importance of standardized diagnostic and treatment programs that provide more efficient and effective evaluation, as well as more appropriate and rapid treatment of patients with chest pain and other heart attack symptoms.
For further information, contact us at 214-320-7000
To the community served by Dallas Regional Medical Center, this means that processes are in place which meet strict criteria aimed at:
Reducing the time from onset of symptoms to diagnosis and treatment
Treating patients more quickly during the critical window of time when the integrity of the heart muscle can be preserved
Monitoring patients when it is not certain they are having a heart attack to ensure they are not sent home too quickly, or needlessly admitted to the hospital
When minutes matter choose Dallas Regional Medical Center
We provide comprehensive, technologically advanced heart care delivered by knowledgeable, experienced cardiac professionals.
We have received Chest Pain Center Accreditation from the American College of Cardiology Accreditation Services.
We are the only Accredited Chest Pain Center for more than eight miles, and we have interventional capabilities, unlike any freestanding E.R. or urgent care facilities.
Heart attack warning signs
Signs that could mean you're experiencing a heart attack:
Chest discomfort. Most heart attacks involve discomfort in the center of the chest that lasts more than a few minutes, or that goes away and comes back. It can feel like uncomfortable pressure, squeezing, fullness or pain.
Discomfort in other areas of the upper body. Symptoms can include pain or discomfort in one or both arms, the back, neck, jaw or stomach.
Shortness of breath with or without chest discomfort.
Other signs may include breaking out in a cold sweat, nausea or lightheadedness.
If you are experiencing chest pain or think you may be having a heart attack, please call 9-1-1.
Want to know more about your heart health?
Because we believe an ounce of prevention is worth a pound of cure, we also offer a special price of $59 for our cardiac calcium score screenings. It's quick, painless, and it could save your life.
Bariatric & Weight Loss Institute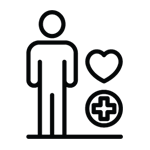 Emergency Medicine Center