Bariatric/Weight Loss Institute
Our bariatric center provides both surgical and non-surgical options for losing weight.
Weight-Loss Expertise
If your weight is keeping you from leading the healthy, active life you've envisioned, we can help. Dallas Regional Medical Center's comprehensive bariatric surgery* program addresses the physical and emotional aspects of weight loss, offering education and support from pre-surgery through recovery. Our multidisciplinary team of weight-loss professionals provide you with the tools you need to achieve long-term weight loss.
*Weight loss surgery: Patient results may vary. Consult your physician about the benefits and risks of weight loss surgery.
For further information, contact us at 214-320-7000
Bariatric & Weight Loss Institute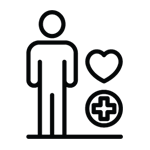 Emergency Medicine Center